15 Yard Roofing Dumpster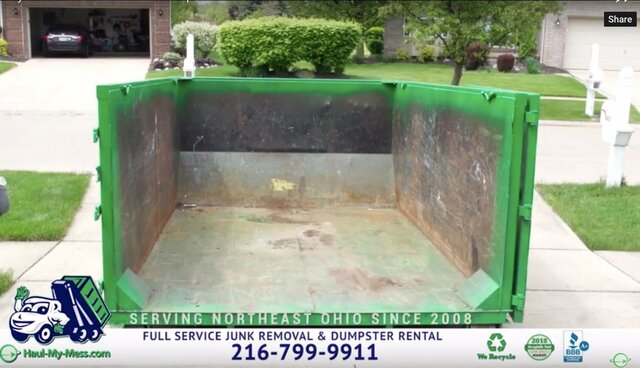 Size: 11' x L, 8' x W, 3' x H
Days: Up to 7 Days ($15 Off 1-3 Day Rentals)
Rent Time Extension: $15 Per Additional Day
Flat Rate-No Additional Cost For Tonnage
Building Materials Only-Must Not be Mixed With Trash Or Municipal Solid Waste
Description
RESTRICTIONS:
Flat Rate Dumpsters Are Available For Construction And Demolition Debris Material Only.

Please read carefully before you sign and accept the terms of the agreement.
Any mixing of household trash, furniture, or any material not deemed construction material will revert your dumpster rental into a standard dumpster rental that will include a weight limit of 1.5 tons (3000lbs). Weight amounts over the 1.5 tons included will be charged $60 per ton after the included weight.
Extra Charges:
The same card that you reserved your dumpster with will automatically be charged if extra charges are incurred. Extra Charges:
Extra Charges:
We may charge a $75 fee if you cancel or modify your order the day of delivery or after business hours the day before. Extra charge:
There are weight limits on your container (7 tons 0r 14,000lbs). Any container weighing over 7 tons will not be able to be picked up by our equipment for construction and demolition debris (C&D) Waste. The landfill bills our company on a weekly basis. If you exceed your weight limit, you will be notified within 1 week (5 business days) of any applicable excess weight or contaminated charges. Our company does not own the landfill or transfer station where the dumpsters are emptied.
Extra charge:
We charge a minimum fee of $125 for unsuccessful container pick-up or drop-off attempts. Such as, anything blocking access to pick up or drop off location: Vehicles, construction equipment, low power lines or branches, construction zones, overloaded or overweight containers, locked gates or fences, inaccessible driveways or parking lots for any reason(s) out of our control. This fee covers drivers pay, fuel, and time for re- routing the drivers planned schedule which takes an immense amount of work.
Extra charge:
1. A fee of $15 per day will apply if you exceed the established rental period.
You are responsible for scheduling the dumpster pick-up.
You must Call 1-216-799-9911 or submit a written notice via email to [email protected] at least 24 hours prior to your requested pickup date.
Your container can arrive ANYTIME throughout the day on the delivery date unless otherwise arranged. For all arrival, removal or any other issues you must call 216-799-9911.TERMS AND CONDITIONS FOR USE OF THE CONTAINER
* Do not load with:
- Drums, paint, solvents, chemicals, batteries, items containing Freon or materials which could be considered flammable or explosive.
- NOTE: For containers priced for C&D (construction and demolition debris) Material only—if rejected from the C&D landfill due to contamination, the container will be taken to the trash landfill & the per ton cost will be modified to the current Trash cost. There will also be an additional $75 trip fee for the driver having to come off route.
* Do not overload or place any material above the sides of the container. You will incur a $125.00 trip charge if box cannot be serviced because of overloaded conditions.
All containers must be loaded level to, or below the top of the container so that it can be covered with a tarp for legal transportation.*
* Any fines due to container being overweight will be paid for by the customer.
D.O.T Regulations permit our vehicles to haul up to 7 tons, but must not to exceed 7 tons.
* Haul-My-Mess.com is not responsible for any damages to* Haul-My-Mess.com is not responsible for any damages to driveways, lawns, trees, or branches due to our equipment servicing your account. If delivery site is under construction or otherwise weathered, it is the customer's responsibility to prepare the drop location to avoid damage to property and or the truck delivering the container. (Plywood, cones, flags, paint or tape off area etc.) Overhead obstructions, tight placement and dangerous or unleveled surfaces must be avoided for everyone's safety.
* Do not force back door closed . . . complete loading only after the door has been closed and locked normally.
* Do not place any objects in front of or around the container in a way that may restrict truck access for hauling.
* Do not move container without permission from Haul-My- Mess.com. You will be held responsible for any damage to the container.
* Do not wait until container is full to call for service. Call a minimum of 24hrs in advance or establish a removal date. Your removal or switch out MUST to be scheduled into a route.
* Do not ask the driver to place container in an unsafe area or outside of an area that has already been established.
* If you need the container relocated after placement there will be a $75 relocation charge applied.
* Unless prior arrangements have been made, customer has use of the container to a standard period of three or seven (3 or 7) days (nights). If the container use needs to be extended, please notify our office prior to the 3rd day. A $15.00/day charge will be added if call in to extend beyond the standard rental period.
* Damage done to any and all containers or container components is the responsibility of the customer. Cost of repairing the container will be directly charged to the customer.
Rental Agreement: Haul-My-Mess.com agrees to furnish the equipment (Dumpster) for collection of Junk items and Materials and to provide recycling and/or disposal service. Customer agrees to make payment for said services according to payment terms and conditions set forth within this agreement form by Haul-My-Mess.com.
BINDING EFFECT: This Agreement is a legally binding contract on both the part of Haul-My-Mess.com and Customer and their respective heirs, successors, and assignees in accordance with the terms and conditions put forth herein. Haul-My-Mess.com may impose and Customer agrees to pay
a late fee for all past due payments. A late fee may not exceed the maximum allowable by applicable state law. In
the event Customer fails to perform its obligation to remit payment, and payment is collected through an attorney, collection agency or other proceedings, then Customer agrees to pay in addition to the amount due, reasonable attorneys fees, court costs, interests and other applicable fees.
WASTE MATERIAL: The material to be collected and disposed of by Haul-My-Mess.com, pursuant to this Agreement, isresidential Junk generated by Customer excluding hazardous materials or materials that require a hazardous or toxic license or permit to transport.
Hazardous Materials shall mean any substance that is toxic, ignitable, reactive, corrosive, acidic, radioactive, volatile, highly flammable or explosiveand that is regulated by any local, state or federal government. Hazardous materials include but are not restricted to asbestos, polychlorobiphenyls (PCBs​) and petroleum.. Title to and liability for any waste excluded above shall resign with Customer and Customer expressly agrees to defend, indemnify and hold harmless Haul-My-Mess.com from and against any and all damages, penalties, fines and legalities resulting from and arising out of such waste excluded above.
RECYCLABLE MATERIAL: The material to be collected and processed by Haul-My-Mess.com, pursuant to this Agreement, is junk generated by Customer excluding non-recyclable solid waste, putrescible waste, household garbage and hazardous materials as defined above. Haul-My-Mess.com, at its discretion, shall collect and dispose of any and all material generated by and intended to be recycled by Customer that Haul-My-Mess.com deems and/or suspects may be contaminated with non-recyclable material and/or solid waste. See attached list of materials not accepted by Haul- My-Mess.com.
What we Can NOT Take-
Customer agrees no hazardous (any material not in compliance with federal, state, or local laws) will be placed in the dumpster.
If the container is filled with an unacceptable material at the time of pick-up, Haul-My-Mess.com has the right to dump on site.
* Aerosol cans
* All liquids
* Antifreeze
* Asbestos
* Barrels
* Batteries
* Chemical products
* Computer monitors
* Contaminated oils (mixed with solvents, gasoline, etc.)
* Fluorescent tubes
* Hazardous waste
* Herbicides & pesticides
* Industrial waste
* Lubricating/hydraulic oil
* Medical waste
* Motor oil
* Oil filters
* Other flammable liquids
* Paint (except completely dried latex paint cans, no liquids) * Petroleum-contaminated soil/lead paint chips
* Propane tanks
* Radioactive material
* Solvents
Tires
* Transmission oil